Description: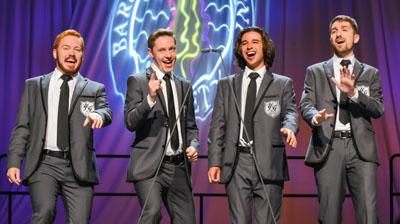 The Barrie County Chordsmen and Barrie Soundwaves are proud to sponsor this a cappella vocal workshop in Barrie! This workshop will introduce you to the wonders of "ringing chords" in 4-part harmony without relying on instruments!

Men and women of all ages are invited to attend this free event on Friday September 27th at 1pm. Admission is FREE, though we will be accepting donations. 100% of the donations collected will go to the The Harmonize for Speech, Hearing and Language Clinic in the Georgian College Sadlon Centre for Health and Wellness
https://www.georgiancollege.ca/community-alumni/health-and-wellness-clinics/speech-hearing-language/

Please PRE-REGISTER by ordering FREE tickets here online!

In the spring of 2020, in conjunction with the Barrie Music Festival, there will be an A Cappella Barbershop Harmony competition here in Barrie. Open to all ages, quartets or larger groups will be able to compete for a scholarship prize of at least $400! Attendees of our workshop in September will be offered additional free monthly training sessions to help them prepare for this contest if they are interested in competing.

The base prize amount is $400, but for every workshop attendee that brings in a special promotional coaster from one of our competition sponsors we will add an additional $5 to the prize money - up to a grand total of $1000!

Free coasters are available from the following organizations:
Music Pro Barrie - 133 Mapleview Drive West - www.musicprobarrie.com
Ontario Musicians Co-Operative Inc. - 25 Toronto Street, Barrie - www.ontariomusicians.com

Parking is $7 per vehicle - this can be booked through the HONK app on iPhone or Android phones, or you can pay by credit card at any of the parking kiosks located around the campus. Download the app ahead of time at www.honkmobile.com - you can pre-book and pay in advance using this app. If you want to pay at the parking kiosks please see the Georgian College parking web page for kiosk locations at: https://www.georgiancollege.ca/about-georgian/visit-us/parking/barrie-campus-parking-information/
The workshop will be held in building "N" on the third floor - a map of the buildings is available here: https://www.georgiancollege.ca/wp-content/uploads/GC-Campus-Map-ENLARGED-TEXT-2019-FINAL.pdf

Note: We are also running a workshop for youth at Eastview S.S. in the morning, and are busing some students in from other high schools for the event. If you have a son/daughter interested please have them check with their school music department to see if their school is participating!